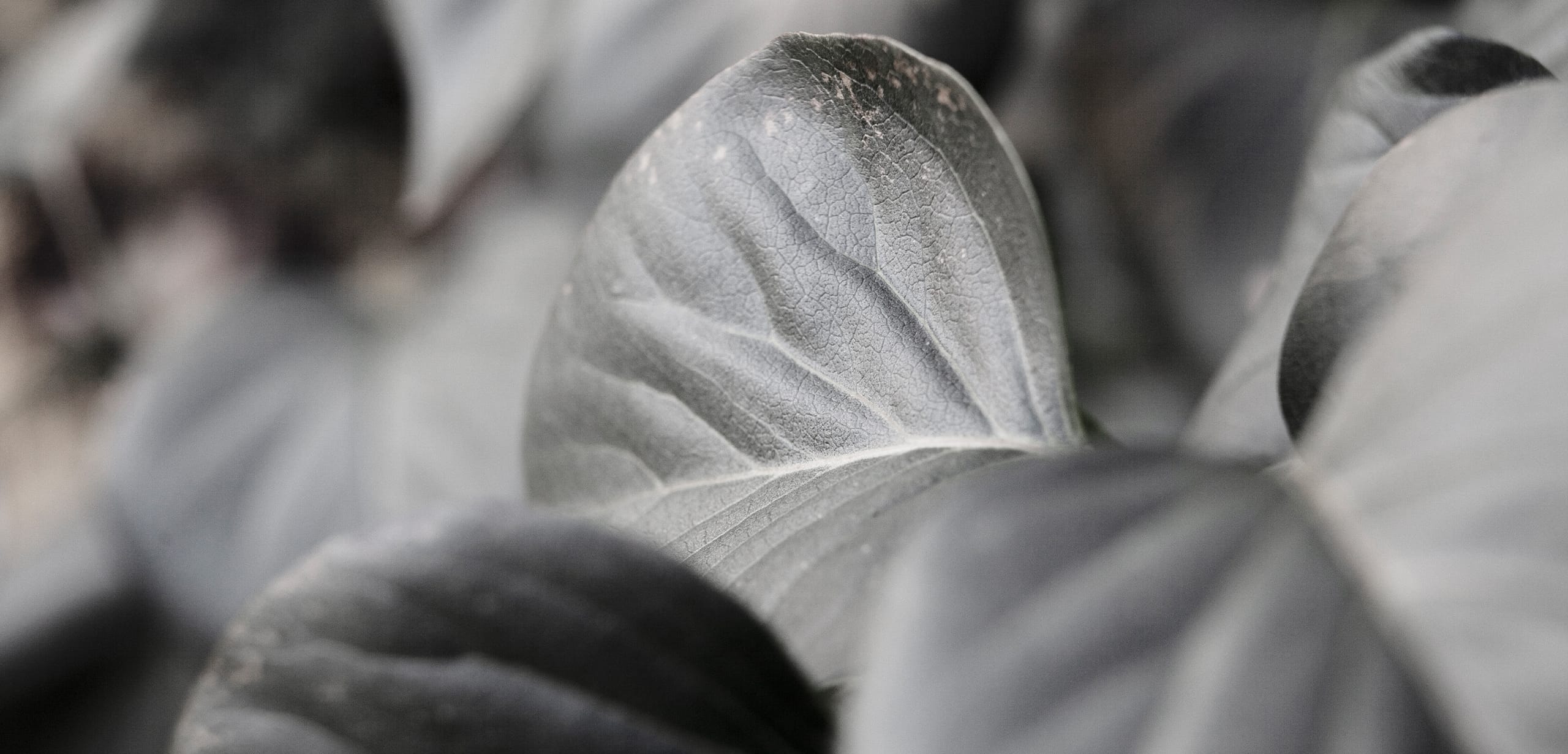 Our Responsibilities to our customers
To be a truly responsible supplier, we need to consider how we act in every section of our business from our product designs considering the recycling, material sourcing, responsible manufacturing, and generally how we act as an employer to all our stakeholders. Whilst our Pledge document highlights our actions around each of these topics, we have pulled out a few key topics that are directly relevant to our customers and what we offer.
Take Back Scheme & Refurbishment
In the UK, 37.2 million tonnes of commercial waste goes to landfill every year (Department for Environment, Food & Rural Affairs, 2018). This is the equivalent to around 3 million London double-decker buses, every year. As a furniture manufacturer, we contribute to this figure. To reduce the impact our industry has on the environment, we have introduced a UK Take back scheme which takes back your unwanted furniture to dispose of responsibly, either through recycling channels or the furniture is refurbished and distributed to charity and community groups, to give the furniture a second life and reduce the amount of furniture reaching its end-of-life prematurely.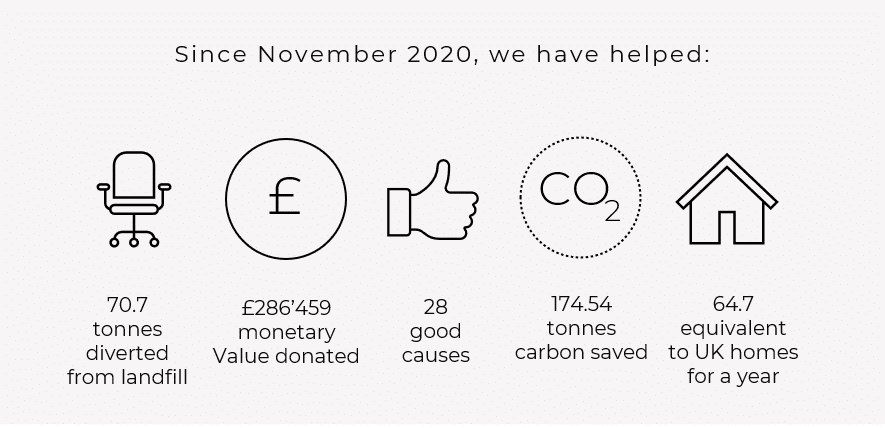 EU Ecolabel
The EU Ecolabel provides clarity. Our customer know they are buying a sustainable product. No cost premium has been applied to our EU Ecolabel certified range. This is to encourage customers to make sustainable choices. As a business we aim to increase our EU Ecolabel certified product offering across a wider range of products.

Explore our EU Ecolabel universe


The certificate is recognised worldwide. It is the equivalent to the Nordic Swan Ecolabel.
83, 590 products have been awarded the EU Ecolabel certification, Only 915 are furniture, from just 23 licensed companies.
This is a prestigious certification and OCI were the first company to receive this for a non-wooden chair.
We aim to increase our offering of EU Ecolabel certified furniture, where possible.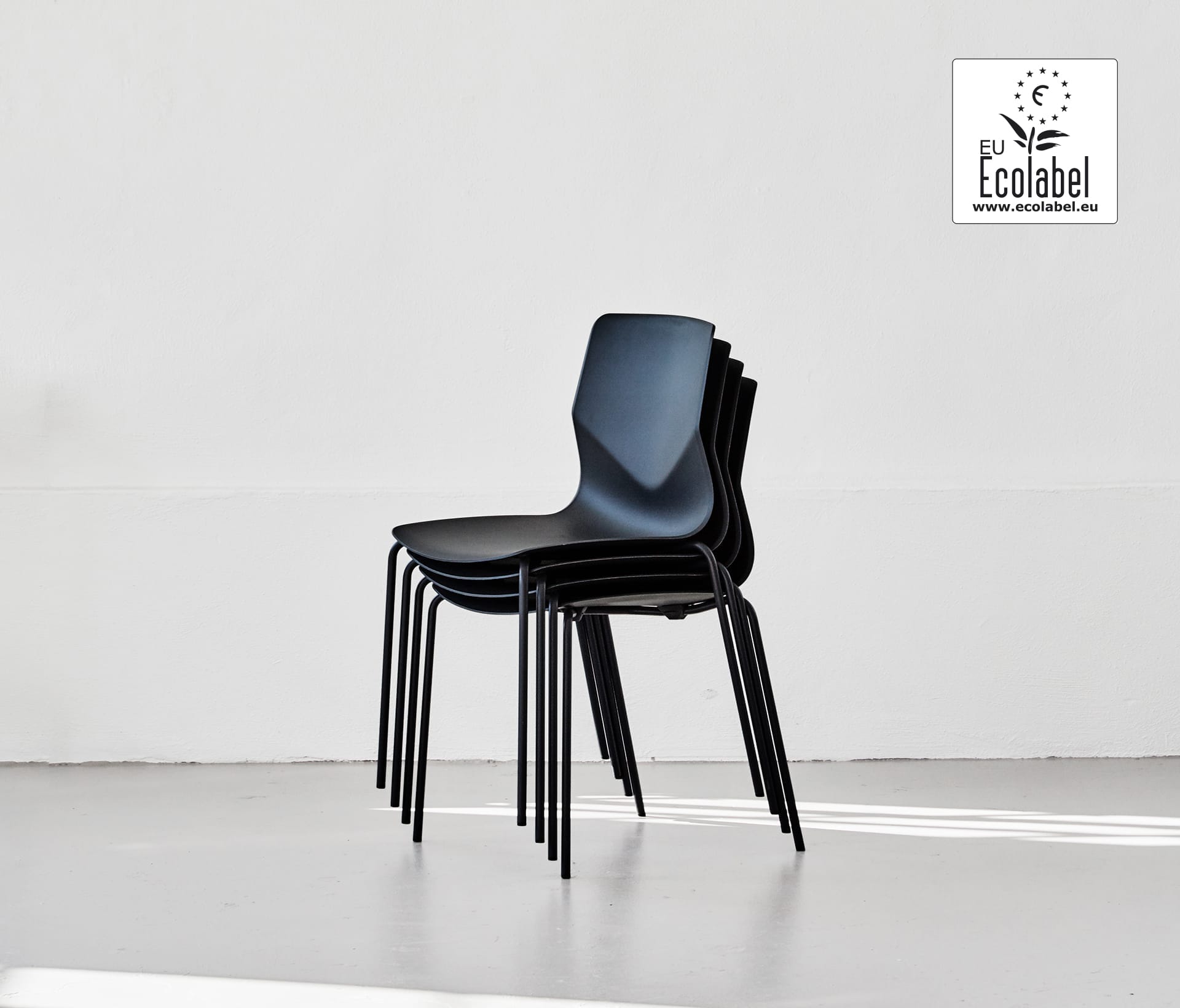 Materials, Products & Designs
At ocee & four design we recognise the importance of knowing the origin of the materials. We are working on developing all our product documentation to give you as much information as possible, so you too can make an informed choice and responsibly consume. We are currently conducting our Product Life Cycle Assessments, with the goal of providing environmental data initially for our top selling range; detailing the material breakdown, embodied carbon, recycled content, and recyclability at end-of-life; aiming all for all products to be at least 95% recyclable to aid the circular economy.

Through the provision of multi-functional, flexible furniture, which has coexisting properties, our customers are able to fit more functionalities into smaller spaces. With the aim of reducing the amount of redundant furniture and space, we believe our innovative concepts can help customers use less m2, saving not only money but also reducing their environmental footprint.