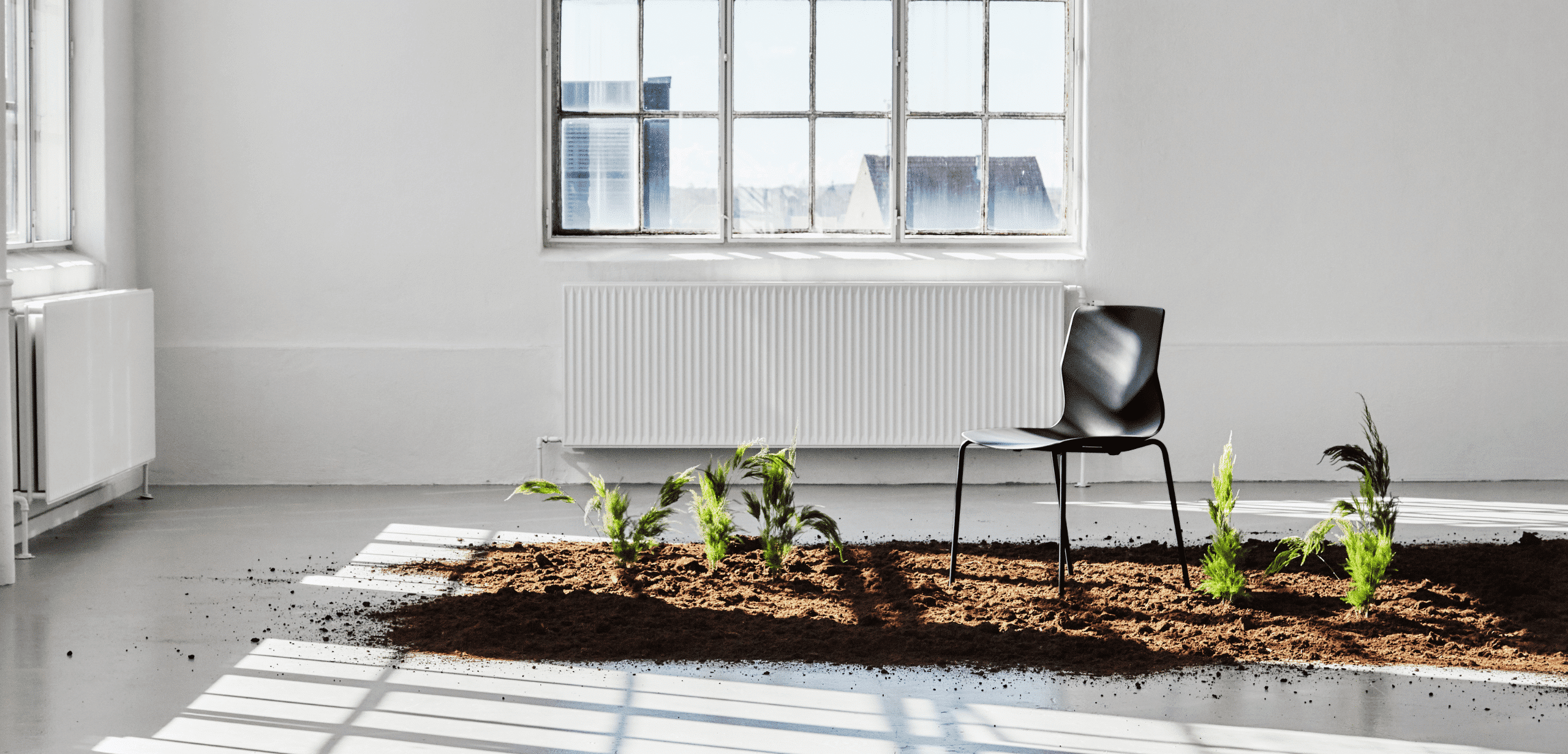 Our Take Back scheme is offered in partnership with Johnsons 1871
Our Take Back scheme allows us to work with our customers to responsibly remove their existing furniture, avoiding creating more waste in landfill when refitting your space.
Whether the products being removed are Ocee & Four Design products or not, we are able to provide a tailored solution in partnership with Johnsons.
Since 1871, Johnsons has been delivering turnkey solutions to their customers. By partnering with them, we are able to offer our customers a range of scenarios such as recycling, rebate, redistribution, and upcycling.
Recycling
Johnsons will handle the removal of items from your site, for example disassembling bulky items or removing foam from seats. Transport is organised to their waste management partners, who will handle the appropriate recycling of individual parts. This will always be the most expensive option, with no social impact.
Rebate
Johnsons will resell your furniture through their network of buyers. You will then receive a rebate for the items sold, offsetting your project costs.
Rework
Through Johnsons' rework network, furniture can be revitalised by skilled professionals, whether that is reupholstering chairs or recutting tables into sizes that will fit your space.
Redistribution
Our preferred solution: Johnson will conduct an asset survey of your furniture and add items in good working condition to their 'Social Showroom'. The platform allows schools and charities (currently over 1300 registered) to source furniture for their spaces, free-of-charge.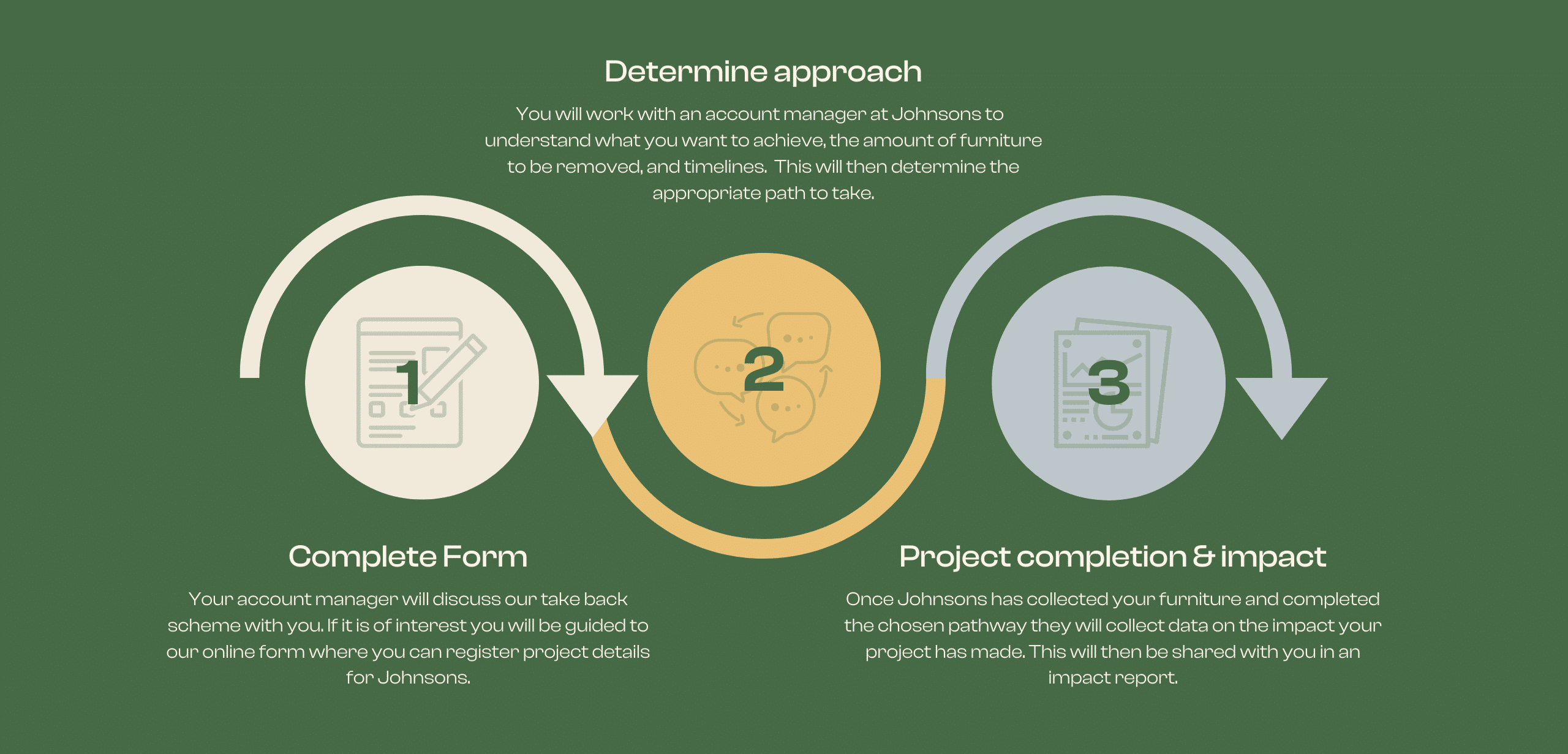 Why is the service bespoke? & Why can't we send furniture straight away to be donated?
There are many varying factors that can affect the price of the take back service, which make it difficult to have a set price per product type. These include:
Amount of furniture
Type of furniture
Condition of furniture
Need to dismantle furniture
Building access
Accessibility of goods lifts
Location
In/Out hours
We understand it makes things slightly more complex, but if we are able to conduct a site survey then we can give an accurate quotation. This is why Johnsons require a certain amount of time before the furniture is needing to be removed, to ensure time for a site survey and for routes of donation to be identified.
Is there a minimum amount of furniture?
No minimum amount of furniture. Though for smaller amounts Johnsons will offer two prices – a fixed date price, and a flexible date price. The flexibility allows them to coordinate with other pickups in the area to keep down costs and environmental impact.
How soon do we need to let you know?
For small projects (roughly under 15 items and simple logistics), they need up to 5 days' notice. For larger projects, they ask for at least 2 weeks notice to be able to mobilise the correct teams. Ideally we will complete a site or asset survey which takes a bit of time to set up. Johnsons and Ocee & Four can work around your priorities in terms of sustainability needs, costs and deadlines.
When to expect a quote turnaround?
Small projects – you will receive a quote within 48 hours. Large projects – site survey date to be confirmed within 48 hours on the condition all necessary questions have been answered and we can get in touch with relevant person. Quote to be completed upon completion of survey.
Who should we contact regarding this?
For logistical reasons, please contact Emma Dixon at emma.dixon@oceedesign.com With finances and reporting, please direct questions to your project contact at Johnsons.
General Conditions of working with Johnsons
Minimum amount of furniture: 1 piece Smaller projects:
Roughly up to 15 items
Pictures or videos needed
Quote should be given within 48 hours
Minimum notice period before collection: 5 days
Costs and reporting will come from us at Ocee & Four
Larger projects:
Site survey date to be arranged before a quote can be given
Date offered within 48 hours (on condition contact has been made and any questions answered)
Minimum notice period before desired collection: 2 weeks – though the more time, the better service management we can offer as a whole solution
Costs and reporting will come from us at Ocee & Four
Interested in utilising our Take Back scheme for your next project?
Just fill in the form below and our team will be in touch.
---
Take Back Scheme
Our Take Back Scheme is part of our pledge to contribute to the United Nations Sustainable Development Goals. Find out more about our Sustainability Commitment here.
If you have any questions or are interested in talking to us about our efforts, please contact our Group Sustainability and Environmental Manager: Giulia Neuhaus