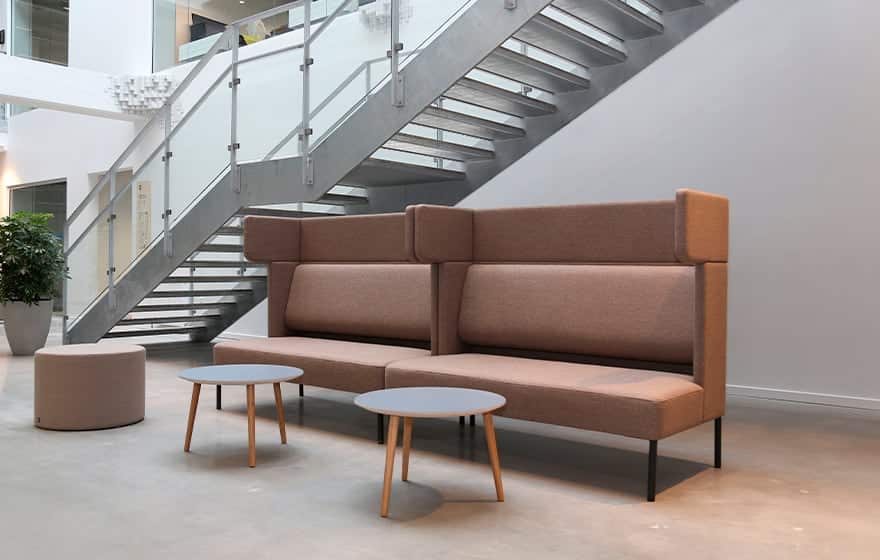 Lillebaelt Academy
Clean Lines and a Soft Focus
Lillebaelt Academy
The UCL Academy building, designed by the renowned Henning Larsen Architects, offers an enriching educational setting for more than 3,000 students. Within its walls, a diverse range of adaptable spaces and atmospheres have been carefully crafted to foster hands-on learning and social engagement.
With forward-thinking initiatives aimed enhancing the connection between learning and the physical surroundings, the EAL Academy, now known as the UCL Academy, seamlessly integrates both innovative and traditional learning approaches into a flexible and dynamic study environment.
Central to this educational space, you'll find breakout areas thoughtfully designed to facilitate both group collaborations and individual study. Our FourUs booths offer a welcoming and cosy haven for students, serving as a versatile sanctuary for those seeking a break from their studies or an environment to concentrate on their independent learning.
Moreover, the expansive multi-purpose canteen, featuring the sleek and modern FourCast chairs, serves as a vibrant epicentre for knowledge-hungry students to congregate and exchange ideas.
By seamlessly blending traditional and contemporary educational methods, and by engaging students in sustainability efforts, the Academy transcends the boundaries of a typical learning space and is a testament to the power of well-designed spaces in shaping the future of education.