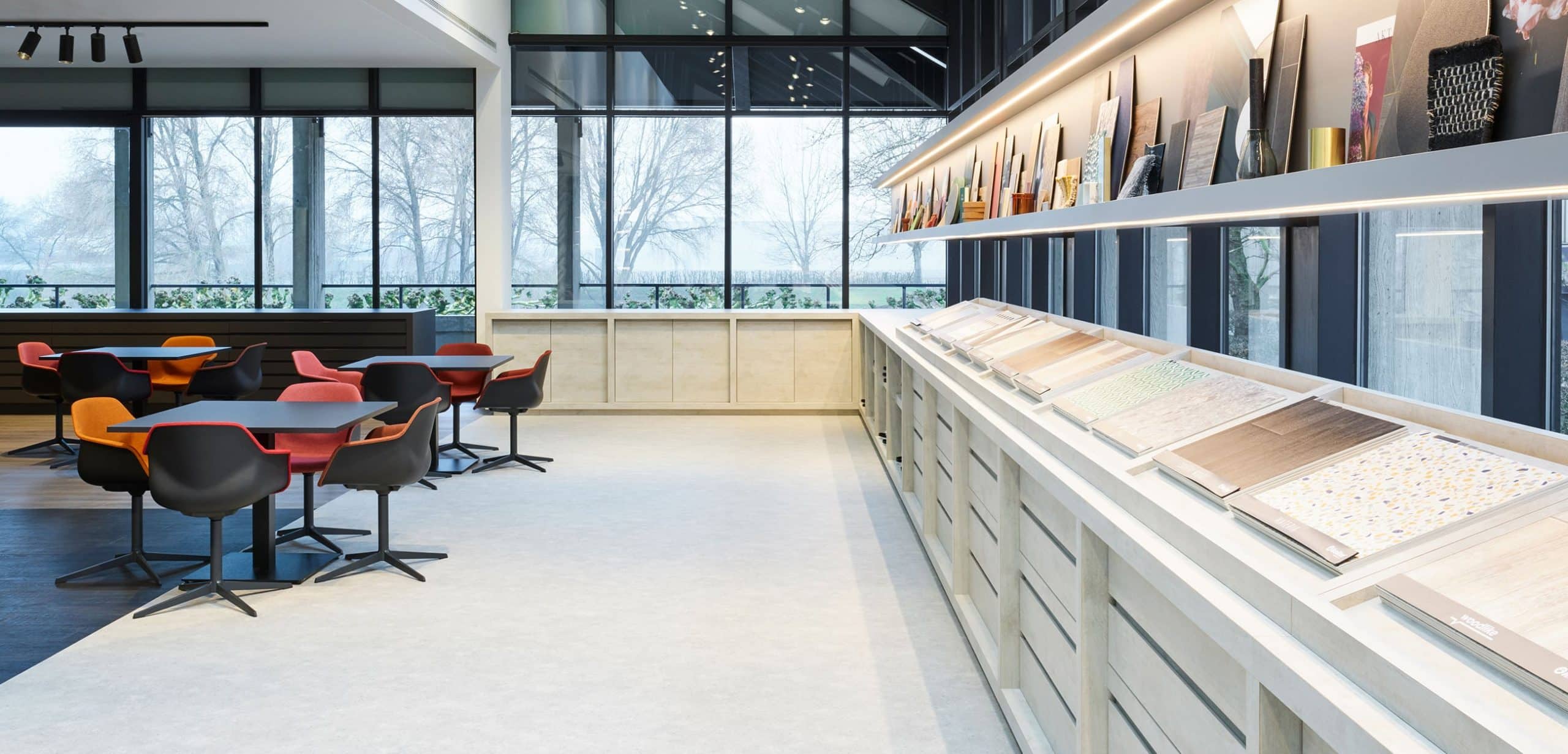 IVC Flooring
Poetical Architecture Unfolding
IVC Flooring Development Centre
Under the creative leadership of renowned architect Glenn Sestig, the Belgian vinyl flooring manufacturer IVC Group underpins their brand ethos with its new Flooring Development Centre in the town of Waregem.
In a poetical architectural narrative, Glenn Sestig successfully meshes outside distinctive features with contemporary functional interiors, storytelling the IVC corporate identity with brilliant twists and turns. This aesthetic whole not only showcases the IVC portfolio but also defines the latest trends in workspace design.
The locally iconic building from the late 1980s, known for its angular shapes and large pitched roof structures, had Glenn Sestig facing a double mission: Upgrading and fulfilling IVC's vision reflecting corporate identity and history while maintaining the building's original features. Nonetheless, he does so with elegance and style, juxtaposing classical architecture with modern contemporary — leaving IVC customers and visitors on edge.
Working with the interior plot, what mattered the most to Glenn Sestig, were the people inhabiting the space. Takings from ethnographic analyses, where Glenn's team followed IVC employees around in their day-to-day doings, ensure design decisions do not disrupt collaborations, productivity or wellbeing.
Walking through the building, the plot thickens. Different identities, colour scheming and textures, function as the contextual grammar, bringing the IVC story to life.
Four Design furniture substantiate the storyline as perfect punctuation marks, commas, and dashes, creating perfect interior rhythm and rimes. It goes without saying that Glenn Sestig unfolds the IVC brand ethos with an idiosyncratic, functional, and poetical happy ending.